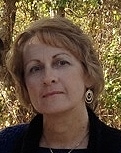 Linda M. Kandle, MSS, LCSW
Here is some background on my professional journey.  I received a BA from (Glassboro State) Rowan University in Communations/ Psychology.   I began my professional career working as PR coordinator at a Substance Abuse Agency, Cape Assist, where I completed 240 hours of education in addictions.  While at Cape Assist, I also worked as a Student Assistance Counselor in one of the county's schools.  At the same time,  I began a Masters program  in Social Services at Bryn Mawr Graduate School of Social Services and Research.  After graduating,  I took a position as Bereavement Coordinator for Inpira Hospice and subsequently became licensed as a Clinical Social Worker.   I then  started my counseling practice which I have continued for 20 + years.
While utilizing traditional counseling modalities such as Psychodynamic, Cognitive/Behavioral and Rogerian, I wanted to offer my clients a variety of interventions which utilized the body and the mind to tap into their own inner ability to heal.  I became certified in Clinical Hypnosis by the American Society of Clinical Hypnosis, EMDR, EFT and use a variety of  energy modalities.
As I sought to give clients tools to cope with the challenges of modern society, I realized my interventions had to be wholistic, with a focus on mind, body and spirit.  So many of those seeking help were living more in their minds and disconnected from the body.  Having a long experience with meditation and tai chi,  I  wanted to offer some modalities that focused on the body and relaxing/refocusing the mind.  By completing a Practicum  at Jefferson University in Mindfulness meditation, I now offer clients Mindfulness based cognitive therapy .  In addition,  I am also certified to teach qigong and "Easy" Tai chi .
I  specialize in Relationship issues, Trauma,  PTSD, and Grief.  I am also experienced in the following:
Depression and Anxiety ,  Parenting, Dissociative Disorders, Life Transitions, Coping Skills, Stress, Women's Issues, Self-Esteem, Spirituality.